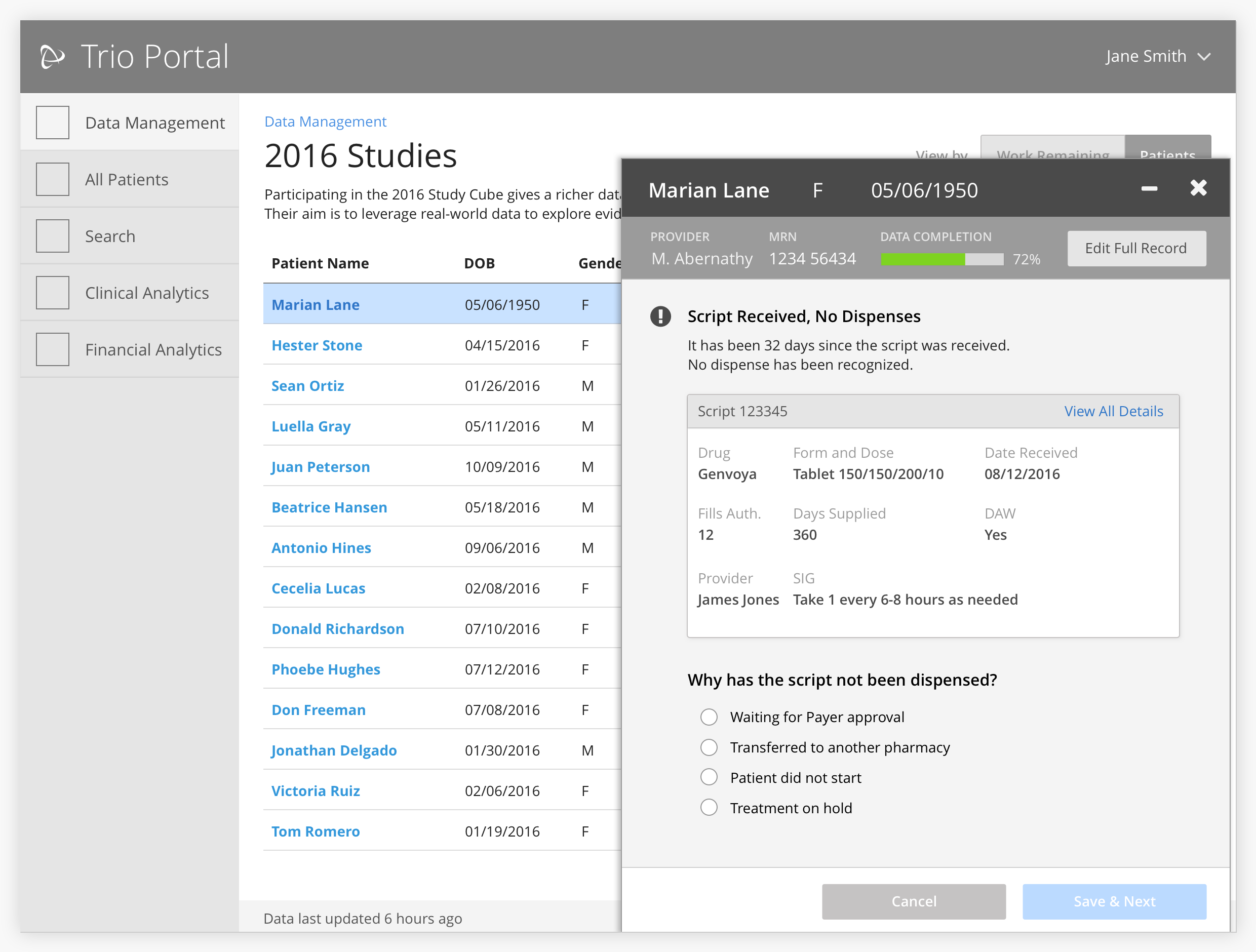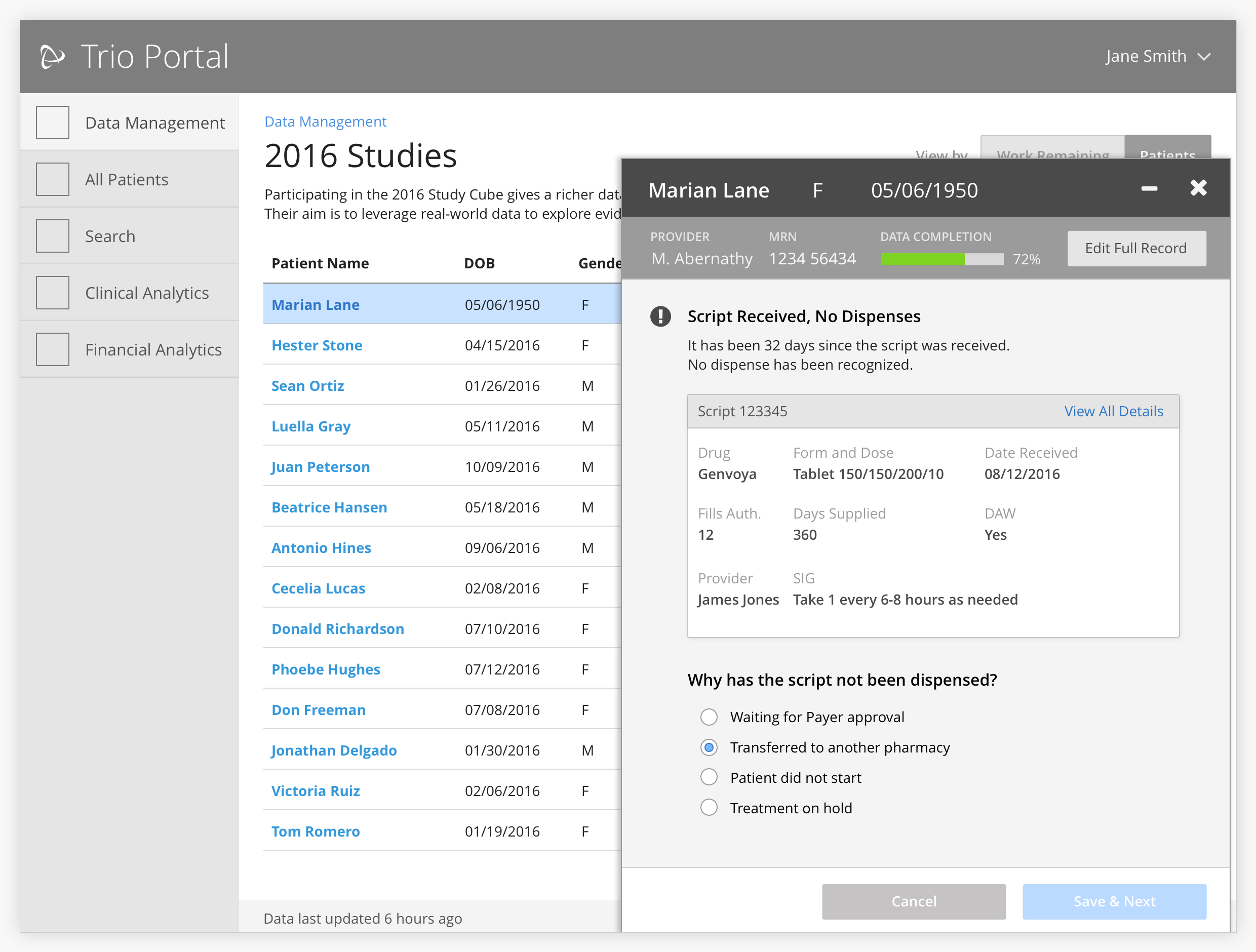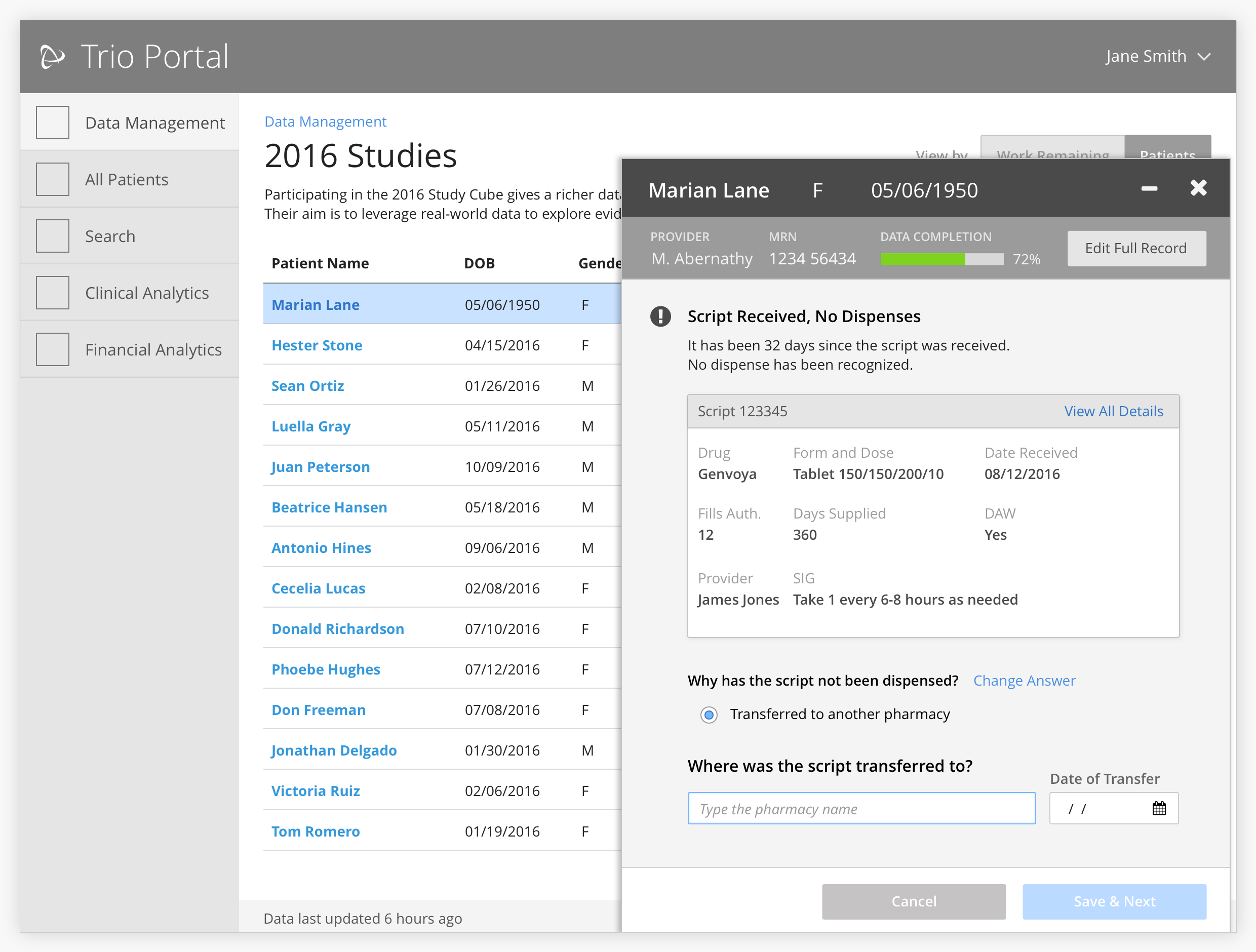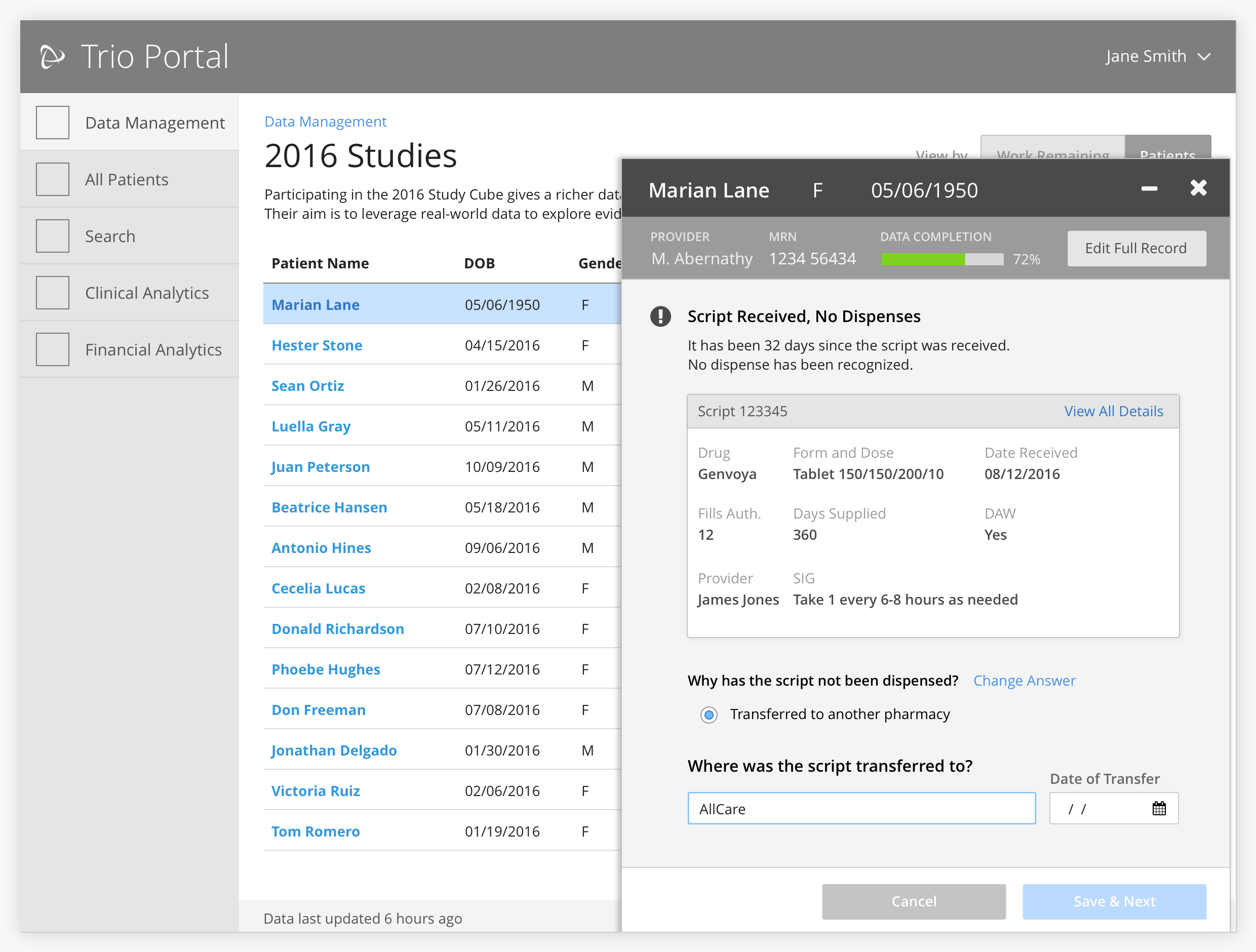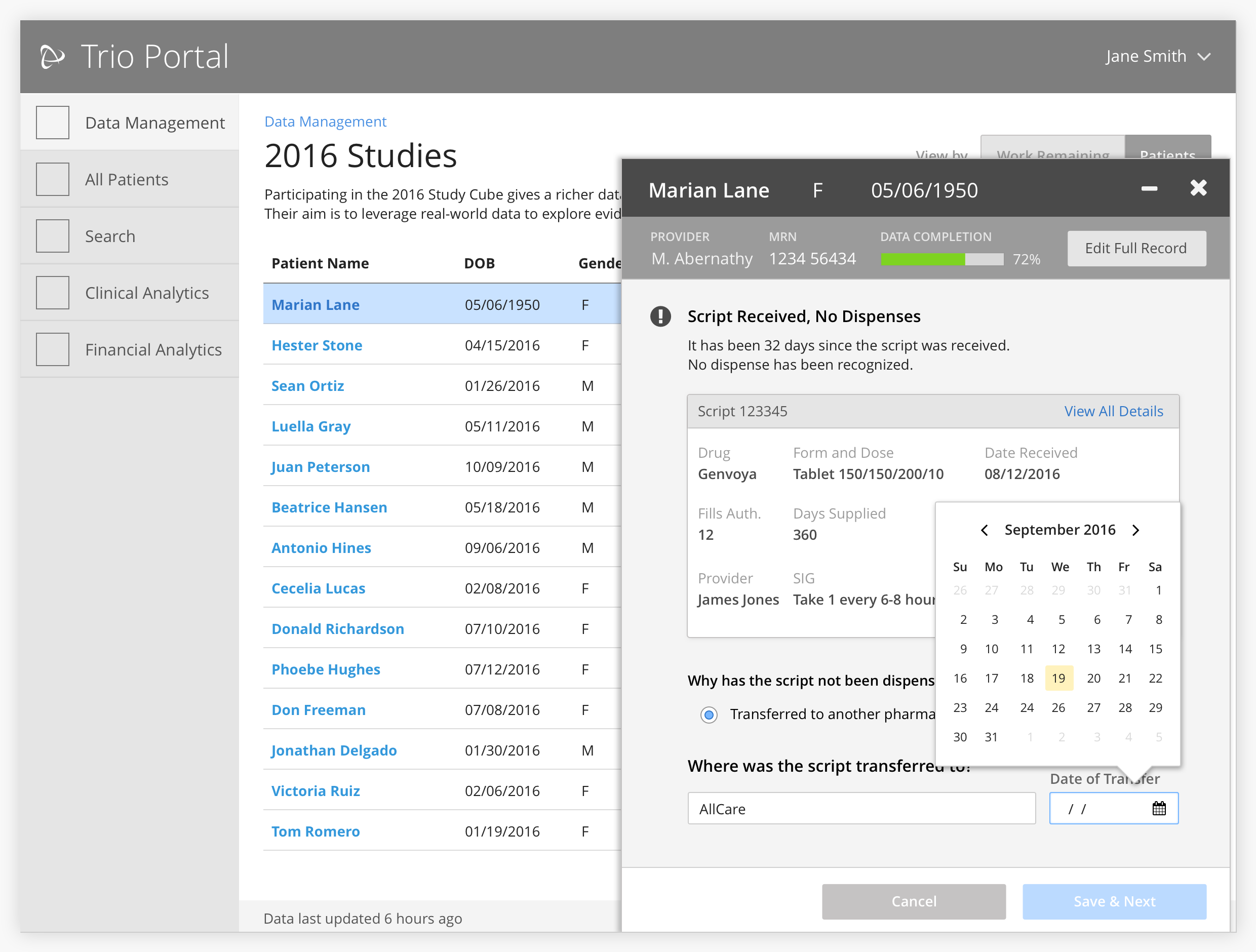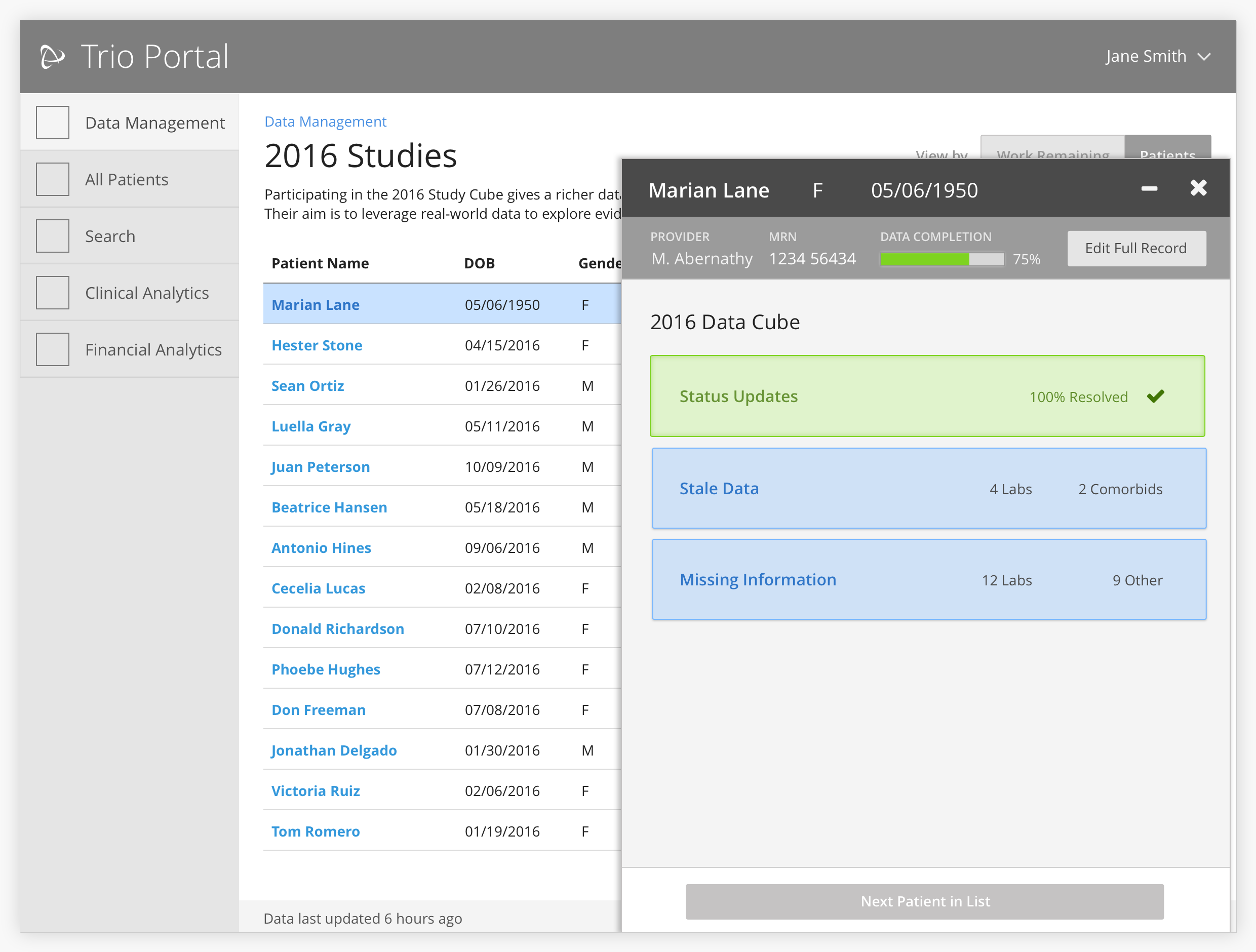 Project Overview
Trio's data collection platform is leveraged to provide analytics to various stakeholders. But there can be no analytics without a robust and accurate data set. Improving the ease of input and clarity of data needs was a core tenant of the platform redesign.
My Role
UX Designer (1 of 2)
User Flows
Site Architecture
Requirement Definition
MVP Product Definition
UI Design, Wireframing
Interactive Prototyping
Process
Target Usability Concerns
The Beta platform successfully collected data, but based on user feedback, the actual workflow of inputting was frustrating.
Common User Challenges
Finding subsets of patients to enter data for
Differentiating between required and optional data
Targeting the most important data needed at this time
Understanding when the patient data was 'complete'
The problem could ultimately be divided into 2 main areas:
Determining a correct 'list' of patients
Determining correct inputs for a single patient
Content Strategy for 'Lists'
Since it was necessary for users to reference a source system in order to correctly input the data, we ranked data inputs based on complexity for the user. For instance, knowing a patient's treatment status was 'easy', where as entering their lab history was a 'harder' task.
While this was helpful, we knew the ease of input wasn't universal for all users. However, what we did now understand was the correlation between data category and likely ease of use.
Knowing this, we restructured what was once an uncategorized list of all patients requiring attention, to one grouped by data category. In addition, we emphasized progress to completion to support and encourage users through their data entry activities.
UX Strategy for Inputting Data
After a user determines which data they are ready to enter and for whom, they need to know exactly what the outstanding data needs are. We wanted users to feel a sense of progress, control over their 'place' in the system, and not be overwhelmed by the bulk of outstanding data needs. To do this, I designed a workflow system similar to tax advisement software: We would ask the user one question at a time, focusing their energy and providing quick wins.
For the system to determine which questions to ask the user,
the system would aggregate outstanding data needs and surface up the most relevant questions based on context.
Once a user answered a question, they would be fed additional prompts based on their pre-selected category. With this approach, users that felt a category would be easy could maintain the level of challenge, while still making progress.
UI Design
The initial UI implementation of the quick data entry system used a pop-over window within a list view. This was done so that the user could see the list physically shrinking after completion, as a way to reinforce a sense of progress. In addition, they would still have full access to list functions like filter and sort.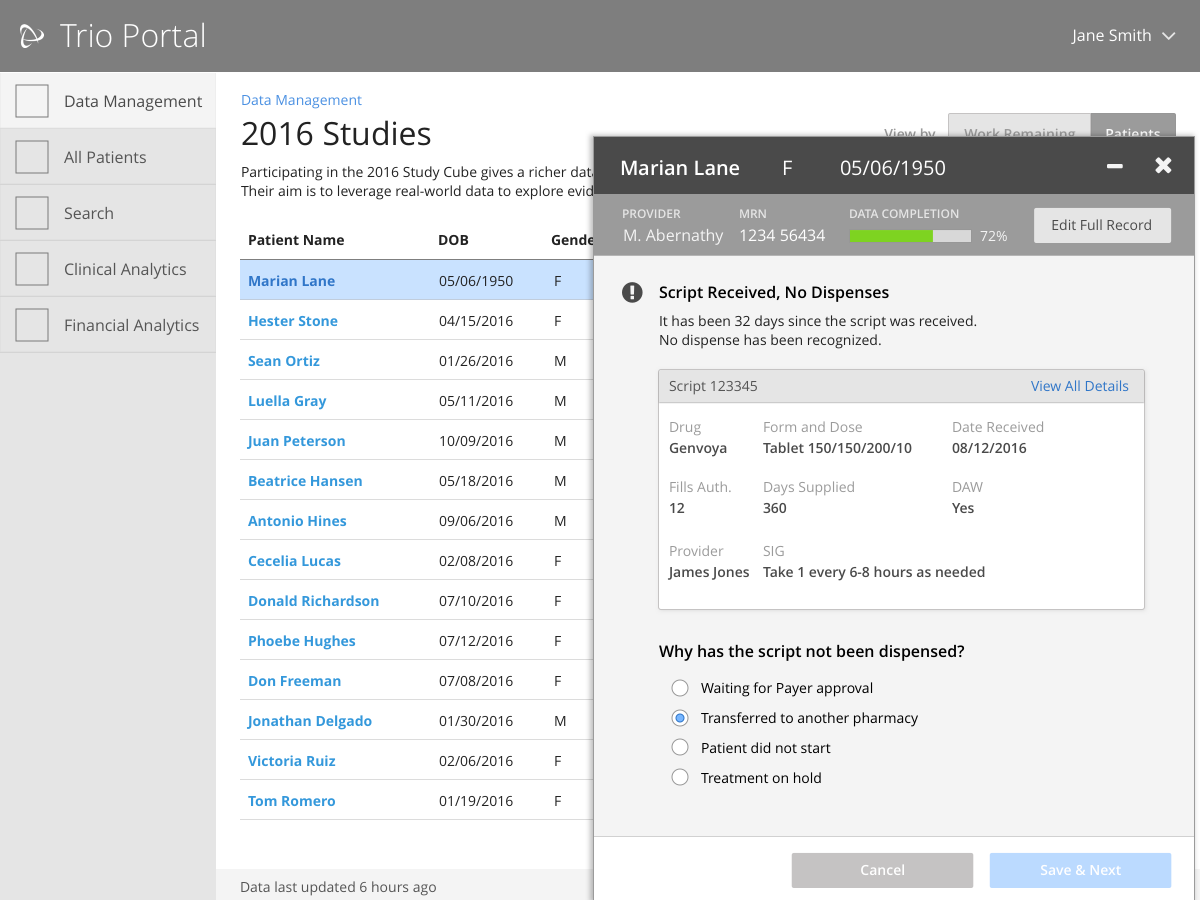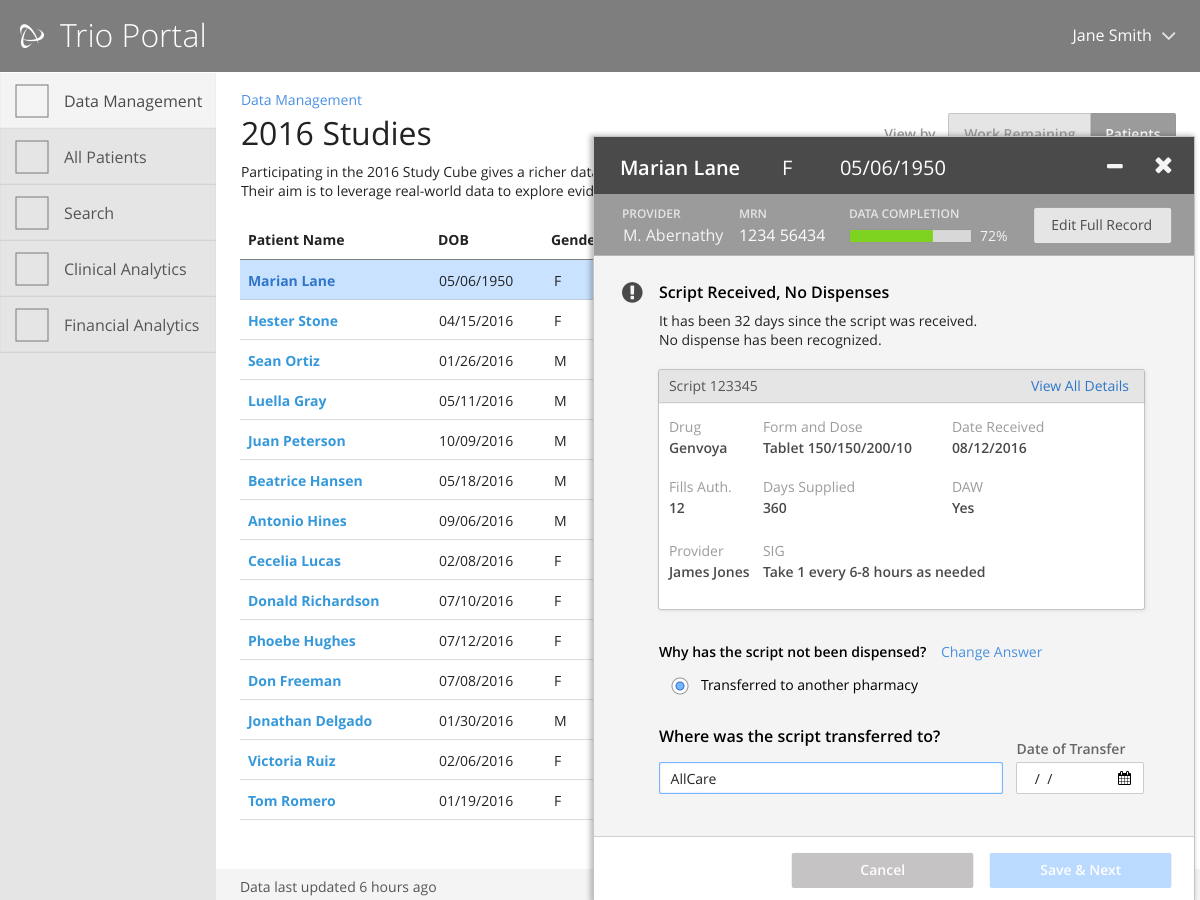 While this implementation was successful from the UX perspective, the development team thought it would be too time consuming to implement for the MVP. Embracing the iterative approach, I reconfigured the page as a Master-Detail layout. The new arrangement still allowed the visual 'shrinking' of the list as users completed data entry, but had far fewer implementation challenges.
The Master-Detail view still allowed the user to see the list shrinking with completion and had one more advantage: We were able to leverage the code elsewhere, too. In the dedicated patient view of missing information, users would see the exact same screen, with the addition of in-page navigation to allow users to skip between prompts. This gives the user an additional option for input that aggregates all outstanding data needs in one spot (and looks familiar!).